Site Amenities & Outdoor Furnishings
Play Environments Design offers a large selection of site furnishings for playgrounds, parks, schools, neighborhoods, public areas, and more. Let us help you enhance your site today! Our products are made from extremely durable materials and will last you for many years! We carry benches, picnic tables, grills, bike racks, trash/recycle receptacles, and more! We can supply products from almost any line of commercial site amenities, including Playcraft Systems, UltraSite, Madrax, Dero, Sportsplay, and many, many more! Call us today to see what we have to offer!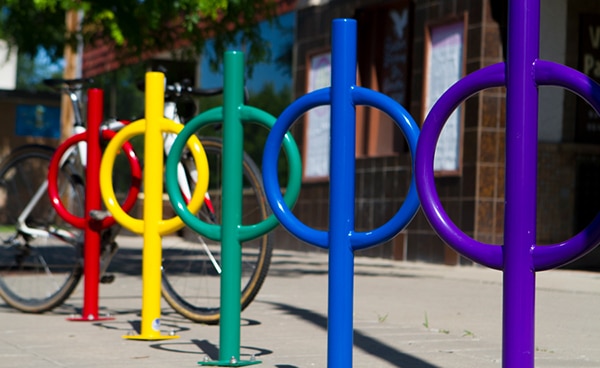 Play Environments Design offers numerous bench styles for a variety of settings, including parks, schools, churches, streetscapes, and more. From traditional to modern styles, we can help you choose the best bench for your area, including the appropriate size, color, and material. We can even customize benches with logos and other designs that will fit right in with the surroundings.
Many people heading out for a picnic would prefer to have a table to use rather than putting a blanket on the ground. We've got you covered! We can get picnic tables in various sizes, styles, and colors, with seating on two or four sides. We also offer plenty of round picnic tables and wheelchair accessible picnic tables.
Bike racks will provide your guests security and come in a variety of shapes and lengths. We can even help you create a custom bike rack design to add some extra character to your site! We also can supply bike fix-it stations for those emergencies that no one is prepared for!
TRASH/RECYCLE RECEPTACLES
Trash/Recycle receptacles are essential to providing a clean and enjoyable experience for your guests. Making sure people have a convenient place to dispose of trash/recycle items greatly reduces littering and allows guests to make environmentally friendly choices when cleaning up after a picnic or break at the park. We offer a wide variety of trash/recycle receptacles in different sizes and styles, and they can come with or without lids. Trash/recycle receptacles can also be customized with logos and other designs of your choice.
We also offer grills and fire rings for your backyard, parks, and campgrounds!
Your dedicated sales consultant will help you choose the perfect playground equipment to meet the needs of your specific facility and the children who will be enjoying it.